Earlier this year architect Madeline Arakawa Gins died at 72. She was well known for her architectural collaborations with her artist husband, known simply as Arakawa. Together they developed a style called "reversible destiny," which was notable for its vibrant colors and erratic walls, floors, and other details.
But Gins began her artistic career as a poet. She did not achieve the same level of fame for her work in that genre, but she was an example of the artist who appreciates the connection between poetry and architecture.
Frank Lloyd Wright famously said, "Every great architect is – necessarily – a great poet. He must be a great original interpreter of his time, his day, his age."
However, that's more of an abstract view of the architect/poet – that architecture itself is, by virtue of its sensibility and structure, poetic. Some architects, like Gins, actually write poetry.
An architect with a keen sense of the relationship between buildings and poems is Turkish architect Cengiz Bekt. Bekt was interviewed by Siobhan La Piana about the connection between the two media while living in Ann Arbor, Michigan. Here is an excerpt:
La Piana: Can you talk a little about why you write poetry?
Bektas: I have things to tell. If I can express these things with architecture, that's fine. But if I have something to say that can't be said with architecture, I still must find a way to communicate it. ….
Pek: More specifically, what would you like to say about the characteristics of your poetry? We've heard about the qualities of your architecture, what about your poetic work?
Bektas: Literature is made with words, but also with rhythm and with silences. Architecture is about light and about rhythm between spaces… The critics say that my poetry has a specific structure. And in architecture you also have a structure: you have columns, you have beams. … Each of these elements (windows, columns) are like words in a poem. Individually they are not so important; but they bring music, color and light to the whole. In the end, with a poem or a building, you are happy or you are not.
Another famous architect/poet was Le Corbusier. The Swiss/French architect was considered a pioneer of modern architecture, but he also wrote a book the combined his poetry with drawings. The book, called The Poem of the Right Angle, was published in 1955 and expresses Le Corbusier's worldview. Click here to view this book online.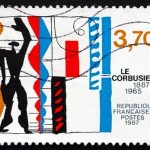 Corbusier died in 1965, but the concept of an architect/poet continues. A living architect known his poetry is Israeli architect Haim Dotan. Dotan was interviewed by Visual China magazine while he was in China for an exhibition. Here is an excerpt:
Visual China: You are both an architect and a poet. … How do these two identities relate to each other?
Professor Dotan: There is division of labor between left and right sides of our brains, but most people incline to depend on or use only one of them. …
It is my passion for nature that joins these two identities and lives. Nature both inspires me to write poems and to create architectural design. Natural beauty is often reflected in my work, because it is my wish to introduce such splendor into architectures and cities. … The most sublime part of humanity is reflected in the poem's words. In architecture, I reveal the beauty of human and nature using stone, glass, wood or other materials.
The architect/poet is, then, simply expressing himself in two different ways: words and buildings.