Paper copies of drawings have been part of the building industry since its inception, and for two decades people have been saying the end of paper is near. Many signs have indicated that that prediction is accurate, as anyone preparing digital CAD drawings can attest.
But tech giant Hewlett-Packard has just invested millions on launching a new printer aimed at the AEC hard copy market, and a recent survey of reprographics shops shows that half of the respondents are enjoying growth in their printing business.
So who's right? Is paper dead, or is it about to hop out of the grave and run a few laps?
There's no question that the quantity of paper construction documents has dropped dramatically over the past decade. Rarely does a general contractor order dozens of massive sets of paper drawings for all of its subcontractors and other stakeholders these days. Now it's common for drawings to be created, stored, edited, and viewed digitally.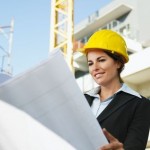 But some signs are pointing to a renewed life for paper. Hewlett-Packard just announced a wide-format version of its PageWide single-pass inkjet technology with an elaborate announcement event in San Diego. The presentation was aimed squarely at AEC paper printing.
"We certainly understand that some segments will go more digital, but there's definitely a longevity to paper printing," says Jamie Sirois, an HP DesignJet segment manager. "There's something about having that physical piece of paper in your hand. I would go to conferences and people would say, 'No I'm not going to hand over a pad to every worker on the site, they still need a plan.'"
Some quantifiable data also point to a continued pulse in paper. The survey of the reprographics industry asked members of the International Reprographic Association whether their large-format monochrome printing business was up, down, or flat during the first quarter of 2014, and 50 percent of the respondents reported that it was up. Only 11 percent reported a decrease.
There is no question that digital documents have advantages – they're easy to edit, transmit, and store – but sometimes nothing beats holding a paper drawing in your hands. It may be old fashioned, but paper seems to be here for good.