Critics are piling on to green buildings that aren't particularly green, the LEED program is under pressure from competition and some designers, and cost-conscious owners are cautious about anything green that might spike the bottom line.
However, despite these pressures, bonafide green building is still highly popular and becoming more common. Sixty-four percent of respondents to an October 2013 survey by Building Design & Construction magazine said they had used LEED to register or certify projects in the previous 12 to 18 months.
Perhaps the pressures on the green building system are simply the necessary consequence of success – when expectations are met, the bar is raised. And much typical green work simply flies under the radar today because it's simply the "new normal."
Not Green Enough
The most poignant criticism of the green building movement has been that some buildings that earn high LEED ratings aren't really as efficient as the owners felt they were. For example, the LEED Gold certified 7 World Trade Center earned just 74 points on the Energy Star rating, one point below the threshold for "high efficiency."
One of the main reasons for this failure, according to observers, is modern design that emphasizes large expanses of curtain-wall glass assemblies and "deep plan" designs that require more artificial light and ventilation. Designers add on numerous green features, such as highly energy efficient HVAC systems, to compensate and earn the necessary LEED credits, but the underlying design is hard to overcome.
In contrast, critics' note, the design of many older buildings – which had to take advantage of natural light and ventilation because nothing else was available – is much more "green." If those older buildings were retrofitted with modern, energy-efficient HVAC systems and windows/doors, they would easily be more energy efficient than poorly designed modern buildings. Furthermore, those buildings were erected in city centers, close to public transportation, rather than in distant suburbs that catered to car owners.
However, some green elements that formally would have been praised, such as the use of a tighter building envelope, is now so common that it doesn't get noticed.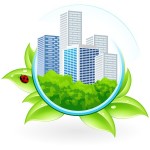 LEED Under Pressure
The U.S. Green Building Council, which administers the LEED program, also has been under pressure in recent years from critics and competition.
A 2010 lawsuit claimed that the LEED system did not live up to its standards. The suit was dismissed, but the point was made.
Competition has also emerged. At least three other organizations offer some LEED-like ratings – the Green Globes, the National Green Building Standard, and the Living Building Challenge.
Perhaps the biggest challenge to LEED, however, is simply the fact that many designers now incorporate green elements into their design but do not pursue LEED certification. Nearly a quarter of respondents to the Building Design & Construction magazine survey reported that their projects would earn LEED Silver designation, but that they choose not to invest in the certification process. Basically, these designers are saying that green is normal – no need to specially certify it.
The Pinch of Recession
The recession put a serious pinch on the construction industry, so it's no surprise that green took a bit of a hit. A survey by Green Building Insider in 2010 – during the heart of the recession – found that the percentage of architects who agreed that green construction was "worth the time and effort" dropped from 96.8 percent in 2007 to 93.8 percent in 2008 to 92.3 percent in 2009.
However, numerous studies show that the long-term cost savings of green attributes more than make up for the extra initial cost, and that initial cost is dropping as volume increases on green-related products. A 2012 study by the General Services Administration found that on average, government buildings constructed with green elements outperformed national averages. They use less energy and water, cost less to maintain, and had happier occupants.
Green Still Matters
The bottom line is that green still matters, because it saves money, helps reduce a building's impact on the environment, and makes for more comfortable occupancy. But green building is becoming so commonplace – which is seemingly a positive result of the green building movement – that labeling a building "green" or pursuing LEED (or other) certification may eventually become obsolete. When everybody is doing something, it's simply not worth mentioning.