Océ Colorado 1640 Printer
Powered by UVgel Technology
Océ Colorado 1640... breaking all the rules
The new Océ Colorado 1640 wide format printer, powered by UVgel, fills the gap between current technologies in the roll-to-roll production market. Print service providers now have a clear choice when it comes to a graphics printing system that will help deliver real production efficiency while lowering their operating costs, enabling them to profitably grow their business. Print volumes have continued to grow in the wide format marketplace for several years now and turnaround times continue to shrink as well. Analysts confirm that more than 40% of production jobs need to be turned around within 24 hours and a majority of those are same-day. That is why Canon Solutions America has developed this UVgel print technology, allowing customers to compete in this new market space.
This UVgel wide format print technology delivers:
Breakthrough productivity -

Fastest 64" Printer in the Market

Never seen before print automation
Wide and unique application range
Low cost of operation
Robust production printing platform
The Océ Colorado 1640 roll-to-roll printer is excellent for both indoor and outdoor display graphics applications. It delivers a large color gamut, similar to solvent inks, but combines this with the environmental benefits and safety profile of latex and UV-cured printing systems.

WHAT IS UVgel?
Canon has developed a new UVgel technology that is having its debut in the Océ Colorado 1640 printer. UVgel technology is not a copy of evolution of existing technologies. It is an entirely NEW breakthrough, game-changing technology.
When developing UVgel technology, we analyzed current market technologies: solvent, eco-solvent, latex and UV. Each technology has its specific strengths as well as limitations. We developed this UVgel product with one thought in mind – to combine all of the strengths of each of these technologies and eliminate their limitations in one single solution. Because these features are at the core of UVgel, we are able to break the laws of printing physics and print at speeds never before possible.
The Océ Colorado 1640 printer sets a new standard in industrialization and automation. It features a heavy-duty drawer mechanism that holds up to two rolls of media at one time, each weighing up to 110 pounds. The two rolls can be of the same media type and size or different media, and once initialized, the print engine can switch jobs between rolls without operator assistance.
Along with our automated maintenance feature, the UVgel printheads incorporate a patented on-the-fly quality assurance control with continuous nozzle monitoring to detect and correct any underperforming nozzles. Canon's patented nozzle monitoring technology automatically checks all nozzles by using acoustic sampling and detects nozzle misfires before they actually happen.
With the robust frame and industrial motors, we developed a reliable media handling system. In addition, we've also added an optical system that continuously monitors the media step.
We do this by printing virtually invisible marks at the side of the print that are read by a scanner, and the system uses this information to continuously correct the media step.
A radically new UV curable ink from Canon that bonds instantly on contact with the media, resulting in precise dot placement and area control for consistent high-quality images at high speed.
UVgel offers the large color gamut of solvent inks and combines that with the environmental benefits and safety profile of latex inks.
Ultra-thin dispersion with almost no discernible physical profile and the lowest ink consumption rate can provide up to a 40% reduction in printing costs compared to 64″ eco-solvent and latex systems.
Product Highlights
The world's fastest 64-inch roll-to-roll printer, outdoor banners can be printed at 1,710 sq/ft hr and indoor POP at 610 sq/ft hr
Up to 40 % reduction in ink/printing costs compared to other 64" roll-to-roll technologies
Industrial designed production printer capable of printing higher print volumes and built to withstand high duty cycles
Very high print quality across a wide range of applications without having to significantly compromise productivity by reducing speed
Extremely easy and fast media loading and automatic switching with the support of 2 in-line rolls
On-the-fly quality assurance technology facilitates unattended printing and reduced print waste
Automated maintenance provides consistent print quality and higher uptime
Technical Specifications
Océ UVgel technology - instant pinning and dot gain control
Low temperature curing - suitable for thin and heat-sensitive media
Outstanding scratch resistance
Easy lamination, ultra-thin smooth ink film
High precision color-matching and consistency
Odorless and instant dry printout
Supported RIPs - ONYX® Graphics, Caldera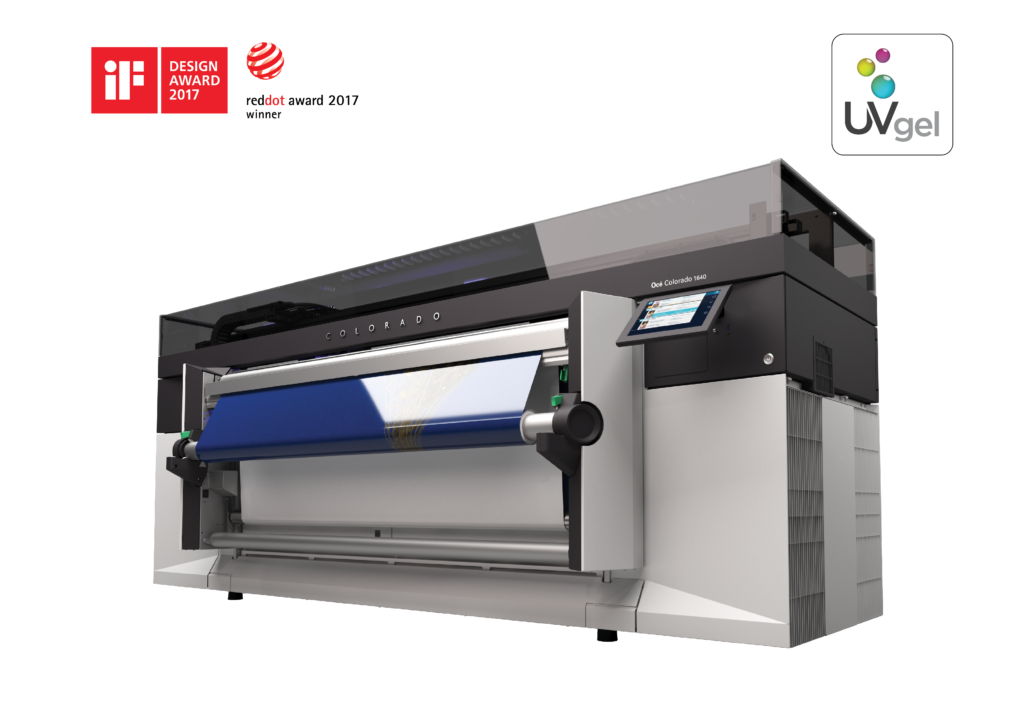 A/E Graphics is an Authorized Dealer of the Océ Colorado 1640
We are your single source for the Colorado printer. Sales, service and supplies. Professional people for professional results.