Océ ColorWave Color Plotters, Printers and Multifunction Systems
Océ is the world leader in large format technical document printers, plotters and multifunction systems.
Océ consistently delivers impressive, comprehensive large format document plotting, copying, scanning and management solutions that optimize your business printing processes and workflow. Having set the benchmarks in quality and productivity in monochrome, Océ's line-up of large format color inkjet printers, plotters and multifunction systems sets a new standard for what users require to communicate in full color, or productive black and white, often in the same unit.
In 2008, the introduction of Océ CrystalPoint technology marked the launch of the Océ ColorWave portfolio, a family of versatile and productive wide format color printers. With Océ CrystalPoint technology, customers benefit from the best attributes of both inkjet and toner, including crisp, high-quality, waterproof color and black and white prints, even on economical uncoated media and recycled paper. It is ideal for use in the production of a wide range of applications such as CAD plots, maps and posters. The robust, instant dry prints are perfectly suitable for short-term outdoor use.
The Océ ColorWave 3500 and 3700 are fourth generation Océ CrystalPoint based printers.
Over 10,000 Océ CrystalPoint based print engines have been installed, serving a multitude of satisfied users worldwide.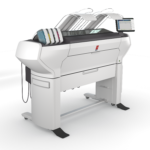 The most productive all-in-one large format printing system for monochrome and color
World-class printing speeds of up to 225 D size prints per hour
Handles applications including black & white and color CAD, GIS and full color wide format graphics on plain paper
Instant-dry prints ready for immediate use
Océ ClearConnect technology makes the right connections to get the job done.
Optional online folder, offering different folded packages that can be prepared and printed right from your desktop
Flexible media choices including bond, film, waterfast Xtreme bond, Tyvek, polypropylene and recycled paper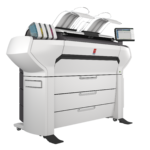 Versatile and productive large format monochrome and color printing system
225 D size prints/1,389 sq/ft per hour
11″ to 42′ media roll width
Capacity of 6 rolls, up to 13,650 sq. feet of media online
Expand your services cost effectively with Océ MediaSense technology's ability to print on thicker media up to 32mil thick.
Grow your application range with media versatility for posters, roll up banners, disposable POP canvas, wallpaper etc
Increase your efficiency with multiple finishing options including stacking and folding
Océ has the hardware and software to help architectural, engineering, GIS and construction customers achieve a competitive edge. A/E Graphics customers know how valuable their technical information is, therefore cost and efficiency are a major focus. Océ equipment solutions allow them to eliminate reprographic and document distribution logistics as a determining factor in whether or not to bid a project. Océ products assists them by streamlining their document management, allowing them to focus on capturing new clients.