When most people think of public transportation, they think about getting from one place to another. But Chicago residents get a little more these days, with architecturally beautiful new stations in the Loop and elsewhere along the city's 113 miles of elevated trains.
A $38-million station opened in May 2012 at the corner of Lake and Morgan streets, on Chicago's West Side. It serves the Pink and Green lines. It was the first new elevated station in 15 years.
The new station, designed by Chicago architect Carol Ross Barney, features towers on either side of the tracks made of glass and perforated steel. Each tower contains a ticketing area and stairs leading to the platforms and a glass tunnel connecting the platforms. The station shines with natural light flowing through the glass and perforated steel, creating a bright, modern aesthetic in an otherwise aging industrial neighborhood.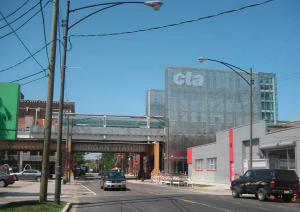 Chicago Tribune architecture critic Blair Kamin praised the structure when it opened: "The outcome succeeds as urban design and architecture. There is no facile attempt here to mimic the muscular brick structures of nearby lofts and warehouses. The boxy slabs have the right toughness for the neighborhood, yet by virtue of their height, transparency and glinting presence, they give it something fresh. Large-scale stainless steel signs, proclaiming 'CTA' atop the slabs and 'Morgan Station' on the sides of the elevated structure, make the station easy to identify from afar."
Another new CTA El station is now rising at the corner of Cermak Road and State Street, just south of the Loop and just west of McCormick Place convention center.
The new station, also designed by Carol Ross Barney, is expected to cost $50 million. The station will feature a long, cocoon-like structure covering its entire length. This structure, resembling a European train station, will protect riders from the elements.
Ground broke on this station in August 2013, and is expected to be completed by the end of 2014.
Finally, the Chicago Transit Authority is consolidating stations at Randolph and Wabash streets in the Loop into one new station on Wabash Avenue. Construction on the station, designed by Teng & Associates (now called Exp), is scheduled to begin in 2014 and will cost $75 million.
The key design element is a series of undulating, white pergola-like bars crossing the tracks. The city's press release states: "The undulating wave form of the canopies weaves through the historic Wabash Avenue corridor as a counterpoint to the city grid, and anticipates the soft forms of the park and the lake beyond. " But critics say it looks like the skeleton of beached whale.
The three stations reveal the city's interest in quality architecture, even if it costs a bit more than standard stations would have cost.