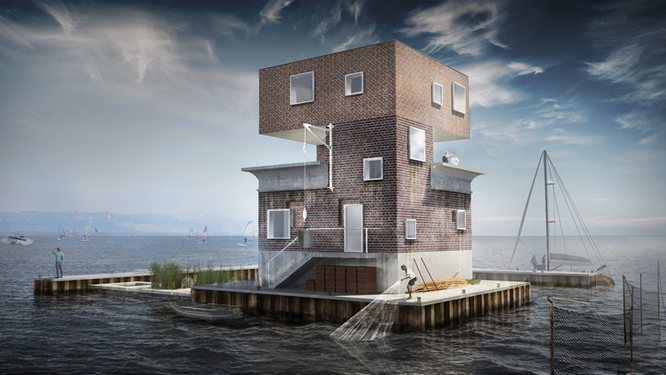 MFRMGR has revealed designs to revitalise a former Polish observation tower in the Baltic Sea to create a base for water sports enthusiasts and researchers.
The lookout station formerly operated as a watch tower for a German research facility responsible for the development of torpedoes during the Second World War, and is one of several derelict structures that rises out of the waters of Puck Bay, on the northern coast of Poland.
The building will harvest renewable energy from the wind and sun, and will also be equipped with a built-in sewage tank, food storage units and a power generator to take over during electricity outages.
A decked platform surrounding the structure will create a breakwater and miniature harbour to prevent damage from high waves and adverse weather, as well as giving occupants space to securely moor their boats.
Three floating "islands" with planting and a rainwater collection tank will link the decking with the building, accommodating a vegetable and herb garden, and an area dedicated to birds…
Source: www.dezeen.com